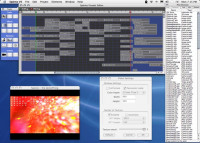 Here is, finally, the first release of our visuals editor and, of course, multiplatform! Even the commonly forgotten (by the demoscene world) MacOS X users can now create their own demos from scratch!

Following a simple timeline concept, this editor is completely oriented to productivity: repeaters, synchronizers, 3D loaders, shaders, backgrounds, faders, the incredible powerful Spontz particle engine at your hands! it also includes a multitrack sound driver, loaders for the most common texture types, fully configurable radial and motion blurs, and a long etcetera of other undocumented features that will come out with the use.
Download


There are
MacOS X
and
Windows
versions available.



Example projects


With this application, you can load and update the demothing, here is the project file!



Comment


If you would like to comment about this tool, you can do it in the Pouet's project page.