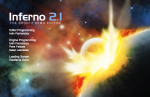 This release of the demo editor is focused on bug fixing and stabilization. Although we are not being very active in the demoscene lately, there are still plans for the developing of this tool. v3 is in the works and is being mostly rewritten from scratch. So the changes for this version are under the hood, basically a reorganization, a bug fixing and the removal of unused or not working tools or windows that got obsolete.

From the point of view of the demoengine there is also additional support for shaders, no memory leaks on the particle system and more stabilization.
Download


As usual, there are
MacOS X
and
Windows
versions available.



Example projects


With this application, you can load and update quintessence. second coming,
from the biomechanical bastards,
and electroscopia!